UltraBall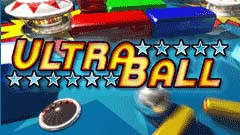 Break out of the ordinary with UltraBall! a uniquely exciting twist on classic game play. This thrilling arcade game combines the fun of a break-out game with all the action and excitement of a classic pinball game. Bounce off bumpers, rotate spinners, earn multi-balls, and much more while breaking every block in sight. Collect the many power-ups and watch your score soar! A completely original experience, UltraBall is sure to delight and amuse even the most experienced arcade players.
Download Now 6.73 MB Buy Now $19.99

Minimum Requirements:
UltraBall Screenshots:
Windows 7/Vista/2000/XP/NT
Pentium II 300 MHz
DirectX 7.0 with compatible video card
64 MB RAM
12 MB free HD space

Click to See Bigger Image
UltraBall Full Version Features:
Wide array of block types including: Armored, Unbreakable and Switchable Blocks.
3 Block shapes: Rectangular, Triangular and Hexagonal.
Huge variety of useful power-ups.
Classic pinball elements including: Bumpers, Rollovers, Spinners, Warps, Ball-Locks & Switches.
Combos and Multiplier Bonuses.
Exciting Musical Score and Sounds.
If you like UltraBall, You'll also like:
---

Ancient Taxi
Wonderland
Cactus Bruce