Ancient Taxi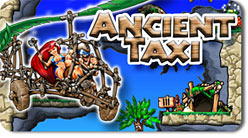 Ancient Taxi Game Description
Be a prehistoric taxi driver!
You are to pedal and pilot a pre-historic helicopter to connect caves by air. Carry cave dwellers from one cave to another to make money. Throughout the game you will stumble upon lost treasures and encounter aggressive animals, crazy rocked kamikaze inventor and much more.


Download Now 10.2 MB Buy Now $19.95

Minimum Requirements:
Ancient Taxi Screenshots:
Windows 7/Vista/2000/NT/XP
300Mhz Pentium II or better
Direct X 5.0 or higher
64 MB RAM
20 MB free HD space

Click to See Bigger Image
Ancient Taxi Full Version Features:
Unlimited, unrestricted gameplay.
Realistic helicopter piloting.
Reach all 30 awesome levels.
Enjoy stunningly rich graphics.
Play all 3 challenging game modes.
Fun music and sounds effects.
If you like Ancient Taxi Game, You'll also like:
---

Snowball Run
Wonderland