Snowball Run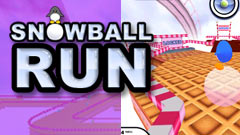 Snowball Run Game Description :
Help the little penguin ride his snowball through a wintry wonderland of twisting turns in this imaginatively inventive arcade adventure. 75 fish-packed levels stand between this little runner and his frozen homeland. Roll up and down ramps, around curves and obstacles, and over jumps for a challenge that will keep you on the edge of your seat. Perfect for gamers of all ages and skill levels, Snowball Run is a true treat.
Download for PC 3.54 MB Download for Mac 5.52 MB Buy Now $19.99

System Requirements:
Snowball Run Screenshots:
PC :
Windows 7/Vista/2000/XP
Pentium II 450 MHz
DirectX 8.0 with compatible video card
64MB RAM
12MB free HD space

Mac:
Power Mac G3 450MHz
MacOS X 10.3 or later
64MB RAM
12MB free HD space



Click to See Bigger Image
Snowball Run Full Version Features:
Unlimited Play.
3 Exciting Game Modes.
75 Challenging Levels.
Cool Sound & Music.
Colorful 3D Graphics.
5 Fun-tastic Fantasy Worlds.
Fun for Kids aged 5 to 85.
Simple & Intuitive Controls.
5 Fun-tastic Fantasy Worlds.
Bonus Scores & Extra Lives.
3 Skill Levels (including Tutorial).
If you like Snowball Run, You'll also like:
---
Bud Redhead

Magic Ball 2