Wonderland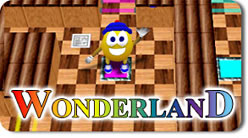 Wonderland breaks the mold for action/puzzle games, combining state-of-the-art 3D visuals with compelling gameplay. Guide our heroes through eighty-five (!) diverse levels as they discover hidden secrets, engage quirky adversaries, and solve a wide array of cleverly designed puzzles. With its colorful 3D graphics, comical sound effects, fully interactive environments, and an original soundtrack by Purple Motion, Wonderland is sure to be one of the most creative games you will play this year.

Download From Site 1 7.22 MB Download Site 2 7.22 MB Buy Now $19.95

Minimum Requirements:
Wonderland Screenshots:
Windows 7/Vista/2000/ME/XP
300 MHz Processor
Direct X 7.0 or higher
64 MB RAM
12 MB free HD space

Click to See Bigger Image
Wonderland Full Version Features:
Unlimited, unrestricted access.
Play all 85 levels.
Explore 10 different worlds.
Access new features like ice, lava, and z-bots.
Stunning graphics and all original soundtrack.
Complete set of levels for younger players.
If you like Wonderland Game, You'll also like:
---

Snowball Run
Cactus Bruce