Cactus Bruce & The Corporate Monkeys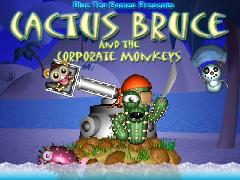 What is Cactus Bruce?
Cactus Bruce and the Corporate Monkeys is a downloadable game for the Windows platform. Tired from work, study or just plain bored? Download this addictive little game and get a kick out of Cactus Bruce's comedic adventure!
Play as the Pirate Cactus who controls a grappling claw-machine that can grab almost any item in this action/arcade game. The cast of wacky friends (ie: Marvin the Explosive Snowman) and the comical storyline energizes the gameplay. In addition, Cactus Bruce and the Corporate Monkeys features memorable music, immersive graphics, 12 challenges, and 90 levels in 4 difficulties.

The Story: The nefarious Hoollabanger Corp is building banana plantations on Foster Island, home to the legendary Cactus Bruce the Pirate. As of result, countless homes are destroyed and inhabitants are driven out. It is up to Bruce and friends to defend the island against the evil behind Hoollabanger Corp - the Corporate Monkeys.

Get your own copy of "Cactus Bruce and the Corporate Monkeys" by registering today!


Buy Now $19.95

Minimum Requirements:
Bricks of Egypt Screenshots:
Windows 7/Vista/2000/XP
PII 400Mhz
DirectX installed
64 MB RAM
12 MB free HD space

Latest Version: v1.30


Click to See Bigger Image
Cactus Bruce Full Version Features:
90 levels to play.
12 Challenges available, including "Great Wall", "Temple of Artemis", and "Banana Plantation"
Bananza! Mode for expert players.
See your name registered in the game.
Test your skills in the Bananza! difficulty.
Unlock all friends and see the ending.
FREE updates and more levels in the future!
If you like Cactus Bruce, You'll also like:
---
Bud Redhead

Magic Ball 2