Digby's Donuts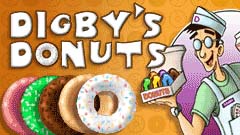 Digby's donuts are so good, he can't get them to the counter before they're snatched up. As Digby's new employee it's your job to catch the donuts when they come fresh out of the oven, and stack them in the display counter. Stack them in groups of three by frosting color and they'll disappear down the customer's throats, earning you big tips. Winner of the first ever RealOne Arcade Game Showdown, Digby's Donuts is a deliciously addictive (and non-fattening) treat for the whole family!
Download From Site 1 Download From Site 2 7.69 MB Buy Now $19.95

System Requirements:
Digby's Donuts Screenshots:
Windows 7/Vista/XP/2000
500 Mhz CPU or faster
DirectX 5.0
65 MB of RAM
Video Card: 3D Video Card

Click to See Bigger Image
Digby's Donuts Full Version Features:
Two Exciting Game Modes: Franchise and Arcade.
Beautiful Full Screen Graphics.
Unique bonus levels to test your donut shop skills.
In-Game Hints and Tips.
Challenging Bonus Rounds.
Global high scores for friendly competition.
If you like Digby's Donuts, You'll also like:
---

Betty's Beer Bar
Wonderland
Cactus Bruce