Betty's Beer Bar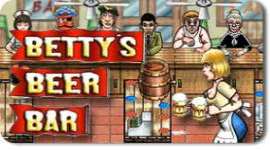 Betty's Beer Bar Game Description
Help the sexy Betty progress from her first work to buying her own island in the caribbean! Serve over fifty of the most fun and wacky characters in four different bars all over the world, rendered in a beautiful hand-drawn, cartoon-like style. Enjoy this game of non-violent bartending action!
With good reflexes and a sharp mind, Betty will earn enough money to leave her dreary work place and start up Betty's Beer Bar in the Caribbean!
Download Site 1 3.24 MB Download Site 2 Buy Full Version $19.95

Minimum Requirements:
Betty's Beer Bar Screenshots:
Windows 7/Vista/2000/NT/XP
Processor: P-200
Direct X 5.0 or higher
Memory: 32 MB RAM
10 MB free HD space

Click to See Bigger Image
Betty's Beer Bar Full Version Features:
Complete tutorial - become an expert in no time!
Over 50 fun characters.
Four beautiful scenarios.
Three different play modes (Story Mode, Time Challenge, and Free Play).
Adjust the game difficulty at will (easy, medium or hard).
Online High Score table - Compete with players all over the world!
Over twenty cartoons telling Betty's story.
Take a seat at the bar with Betty as she serves drinks to all 50 beer bums.
Help Betty earn enough cash to split for the Caribbean.
Enjoy stunningly rich graphics.
Fun music and sounds effects.
60-day unconditional money-back guarantee!
If you like Betty's Beer Bar Game, You'll also like:
---

Snowball Run
Wonderland
Cactus Bruce