Word Up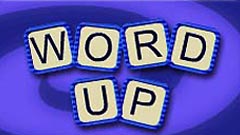 Word Up Game Description:
A word game with attitude! Spell words on a dynamically changing letter grid, using power up tiles and hearing attitude infused sounds that respond to which words you spell! Compete globally with worldwide scores to see who is the smartest speller of the day! Three great game modes mean the gameplay can be fast and frantic, or calm and cerebral. Sassy sound effects and great graphics keep the gameplay fresh and fun.
Download for PC 3.55 MB Download for Mac OS X Buy Now $19.95

System Requirements:
Word Up Screenshots (See Bigger Image)
Windows 7/Vista/2000/XP
Macintosh: Mac OS X, Macintosh OS 9
500Mhz
64 Mb RAM
Direct X 5.0
Word Up Full Version Features:
Enjoy 3 great game modes : Vanilla, Arcade, and Strategy.

Over 1,000 special words trigger hilarious bonus sound effects.

Play in windowed or beautiful full screen mode.

Amazingly integrated audio effects: Spell a racy word and watch what happens.

Great soundtrack by Michael Sweet.

30-day money back guarantee!
If you like Word Up, You'll also like:
---

BookWorm Deluxe

Spelvin

Word Mojo