BookWorm Deluxe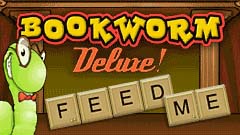 Link letters and build words in this wild new word puzzle game! It's simple... just click to chain letters together into a word, which feeds the hungry Bookworm! The Classic game is turn-based, so you can take as long as you like planning your moves... but watch out! Burning red tiles threaten to set your library aflame!

Make longer words with rare letters and you can earn Reward Tiles, or even the special Sapphire and Diamond pieces, letting you score mega points! For beginners, the Bookworm even defines tricky words onscreen. Find out now why Bookworm is the hottest new word game!
Download Now 10.6 MB Buy Now $19.95 Buy CD Jewel Case $21.95

System Requirements:
BookWorm Deluxe Screenshots
Windows 7/Vista/2000/XP
64 Mb RAM
SVGA Graphics (16bit)
Direct X 5.0
BookWorm Deluxe Features:
2 Game modes: turn-based Classic and speedy Action!

Relax with classic mode (no timer) or turn up the heat in the timed action mode.

Great new graphics, sounds and music!

Mind the burning tiles - you don't want to set the library on fire!

Automatic save feature keeps your last game waiting for you if you quit.

Spell special bonus words for big points.

Save your high scores in the Hall of Fame.

Gold, Sapphire, and Diamond bonus combos!
Ready to eat your words? Chain letters to feed the hungry Bookworm... but watch out for fiery tiles that could torch your whole library! download and play Today!


You'll also like:
---

Typer Shark Deluxe

Word Up