Typer Shark Deluxe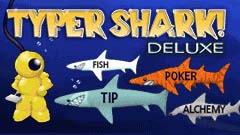 A game you can really sink your teeth into. The deep sea is full of treasure and adventure, but it's also full of creatures that want to eat you. Luckily, you have your trusty keyboard at your side and you've got the typing skills to keep from becoming somebody's dinner. Or, do you? In addition to two exciting game modes, Typer Shark also features a robust Typing Tutor to hone your typing skills. Whether you're just learning to type, or you're a seasoned pro, Typer Shark Deluxe is delightful challenge.

Download Now 2.10 MB Buy Now $19.95 Buy CD Jewel Case $21.95

System Requirements:
Typer Shark Deluxe Screenshots (See Bigger Image)
Windows 7/Vista/2000/XP
32 Mb RAM
16bit Sound Card
Direct X 7.0
Typer Shark Full Version Features:
Two Exciting Game Modes: Adventure and Abyss.
Typing Tutor to Improve Your Skills.
Difficulty Setting that Matches Your Typing Ability.
Deadly Sea Creatures and Powerful 'Boss Monsters' to Defeat.
Hone your skills in Typing Tutor mode!
Awesome updated graphics, sounds, enemies and secret levels!
If you like Typer Shark Deluxe, You'll also like:
---

Bookworm Deluxe