Word Mojo Gold 1.30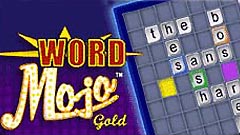 Create intersecting chains of words to acquire Mega Mojo Letters, Prepare yourself for an exciting new word game that takes spelling and creating chains of words to new levels of fun. Simply create intersecting words over the random colored tiles to acquire 3 or more Mega Mojo Letters, and you'll advance to the Mega Mojo round. Exceed your target score each round, and you've got major Mojo! Loaded with exciting new futures, Word Mojo Gold guarantees a new challenge every time you play.


Download Now 2.20 MB Buy Now $19.95

System Requirements:
Word Mojo Gold Screenshots
Windows 7/Vista/2000/XP
32 Mb RAM
SVGA Graphics (16bit)
16bit Sound Card
Direct X 6.0
Full Version Features:
Play Word Mojo mode for more intense, time-pressure fun.
Play in windowed or beautiful full screen mode.
Play Mojo Challenge for a relaxing, untimed experience.
Form words with three or more Mega Mojo letters and enter the Mega Mojo Round!
Watch the Mojo Meter rise as you form more words.
New Un-timed mode.
Two new difficulty levels ~7 & 8 letter words (80% more words than web game).
Save game & High Score lists.
Great new music.
Think you've got WORD? Let Word Mojo Gold rate your MOJO, and you'll see if you've got WORD!


If you like word MoJo, You'll also like:
---

BookWorm Deluxe

Flip Words