Super MP3 Recorder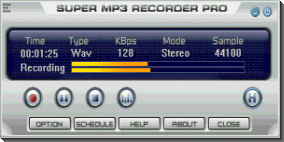 Super Mp3 Recorder makes a complete recording studio of your computer. With Super Mp3 Recorder you can record your own music, voice or other sound you hear, either voice from microphone, webcasts from the Internet, music played by Winamp, Windows Media Player, Quick Time, Real Player, Flash, games, etc. Sound quality of the recordings remains excellent, or sounds even better for Super Mp3 Recorder reduces noise. Super Mp3 Recorder is able to automatically detect the recording formats your sound card supports and then set the application's parameters for the best possible performance. Your recordings are then saved as mp3 or wav files.


Download Free Version 953 KB Buy Full Version $19.95

System Requirements:
Super Mp3 Recorder Screenshots
Windows 7/Vista/98/ME/2000/XP
64 Mb RAM
Full-duplex sound card is also required.
Super Mp3 Recorder Features:
Powerful functions:
Super Mp3 Recorder Pro can record any signal played through your sound card into Mp3, Wma, Vqf, Ogg or Wav files. It also supports converting WAV to MP3.


CD quality recording:
With its powerful sound engine, Super MP3 Recorder records with CD quality.


Audio File Editing:
Super Mp3 Recorder Pro can edit audio files as you desired by cutting, copying, pasting, trimming and various DSP effects.


Flexible settings:
Super Mp3 Recorder supports automatically detecting the recording formats supported by your sound card and set the application's parameters for the best possible performance. The default parameters work in most cases, but you can change them easily to best suit for your needs.


Record volume control support:
Super MP3 Recorder integrates the complete set of record volume control for your convenience.


Voice Activation System:
Super Mp3 Recorder Pro has a Voice Activation System with which you can choose to skip silent passages, or stop the recording after a certain amount of silence.


Recording History Management:
Super Mp3 Recorder Pro enables you to manage recording files conveniently.


Direct-To-Disk long time sound recording support:
Super MP3 Recorder supports continue recording as long as your like without interrupted.


Hotkey Support:
Super Mp3 Recorder Pro supports hotkey setting (F8 to start recording and F9 to stop recording by default).
Related Sound Recorder Software:
---
Audio Record Wizard is a real-time sound recorder, Record audio stream to MP3 or WAV.

Any Sound Recorder - MP3 WAV Sound Recorder, Editor and Converter.

All Sound Recorder enables you to record sound, played back from any source.

Ants Sound Recorder records audio streaming from various devices.

Audio Editor Pro is a powerful mp3 editor for editing an MP3 file with different effects.