Ants Sound Recorder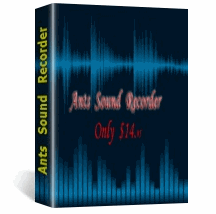 Ants Sound Recorder is a compact audio streaming program that records audio streaming from various devices. A user-friendly interface makes work with Ants Audio Recorder easy and convenient. It designed to record audio streaming into audio files MP3, WAV, WMA, AAC. makes a complete recording studio of your computer. With Ants Sound Recorder you can record voice from microphone, internet streaming audio, or music played by Winamp, Windows Media Player, Quick Time, iTunes, Real Player, Flash, games, etc. Ants Sound Recorder is able to automatically detect the recording formats your sound card supports and then set the application's parameters for the best possible performance. The recordings can be saved as .mp3, .wav, .wma, .m4a, .aac and .ogg files.

With Ants Sound Recorder, users can record sound from a microphone, line-in devices (such as cassette tape player, LP player), and almost any Windows application, including Winamp, DVD Players, Real Player, Windows Media Player, Internet Explorer, FireFox and many more.

Download Free Version 2.21 MB Buy Full Version $14.95

System Requirements:
Ants Sound Recorder Screenshots
Windows 7, 7 x64, Vista, Vista x64, WinXP
256 MB RAM
Sound card
Ants Sound Recorder Features:
Record any signal played through your sound card.
Full Support Mutli Channel Recording on loopback device
Record audio streaming from any sources: Microphone, Line-in devices, and almost any Windows application
With its powerful sound engine, Ants MP3 Recorder records with CD quality.
Save the recording directly into MP3, WAV, WMA, AAC, MP4, OGG, M4A.
All recording using real-time conversion (without creating temporary files).
Support Configuring Parameters of different audio formats.
Ants Sound Recorder integrates the complete set of record volume control for your convenience.
Support Voice Active Mode and Level Threshold
Record sound directly to disk, allowing you to keep recording for as long as there is free disk space.
It is 100% Windows Vista and Windows 7 (32 or 64) compatible.
Easy to use and intuitional interface.
Related Sound Recorder Software:
---
Audio Record Wizard is a real-time sound recorder, Record audio stream to MP3 or WAV.

Any Sound Recorder - MP3 WAV Sound Recorder, Editor and Converter.

All Sound Recorder enables you to record sound, played back from any source.

Audio Editor Pro is a powerful mp3 editor for editing an MP3 file with different effects.