Twistingo Game Download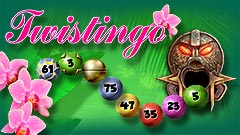 Experience Bingo as you have never played it before - With A Twist!
Explore the mysterious island and save the animals from the evil wizard as you fill up your bingo card. Use the unique and plentiful power-ups to save you from certain death. Play 2 cards for an even greater challenge. If you're looking for something new, fabulous and totally addictive, this is the game for you...
download today and twist into fun!


Download Free Version 8.70 MB Buy Full Version $19.95

System Requirements:
Twistingo Game Screenshots:
Windows 7/Vista/2000/XP
Pentium II 300MHz
DirectSound-compatible sound card
64MB RAM
Disk Space: 9 MB

Click to See Bigger Image
Twistingo Game Full Version Features:
Bingo-based game play coupled with puzzler action.
Adventure mode: Explore the Big Island.
Time mode: The quicker, the better.
Totally revolutionary and fun for the whole family!
Challenging and addictive levels of game play.
Numerous special power ups with amazing special effects.
Auto game save after every level.
Local and global scores.
If you like Twistingo Game, You'll also like:
---

Luxor

Mad Caps

Zuma Deluxe