Mad Caps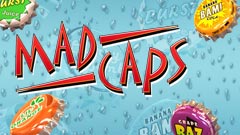 Mad Caps Game Description :

From the creative and crazy minds that brought you Chainz comes Mad Caps, a puzzle game gone MAD! Send bottle caps flying with every move to get your fill of tasty soda. Zap caps with ray guns, target them with rockets or let the alien transform them. Collect letters to spell Mystery Words along with other "under-the-cap" bonuses. Let Mad Caps quench your thirst for fun!
Free Download 4.65 MB Buy Now $19.99

System Requirements:
Mad Caps Screenshots:
Windows 7/Vista/ME/2000/XP
Pentium II 300MHz
DirectSound-compatible sound card
Direct X 7
64MB RAM
12MB free HD space

Click to See Bigger Image
Mad Caps Full Version Features:
3 Exciting Game Modes.
7 Crazy Bonus Caps.
Unlimited Play.
Valuable "Under-The-Cap" Bonuses.
Dizzying Array of Kooky Bottle Caps.
Fantastic Music Soundtrack and Nutty Sound Effects.
If you like Mad Caps, You'll also like:
---

Chainz

High Roller