High Roller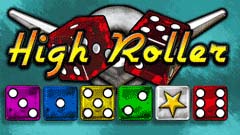 You're the High Roller Now!
High Roller is an action puzzle game with a classic 1950's muscle car theme. It takes more than a kiss from lady luck to succeed at this puzzler. Arrange the colored dice and watch them disappear. Choose carefully, though, because if you run out of moves, good fortune will leave too. This isn't really a gamble, though, because even if you don't come out ahead, High Roller virtually guarantees a payout of fun!
Download for PC 2.93MB Download for Mac 5.43MB Buy Now $19.99

System Requirements:
High Roller Screenshots:
PC:
Windows 7/Vista/2000/XP
300MHz, Direct X 7
64MB RAM, 12MB free HD space

Mac:
MacOS X 10.4 or Later
OpenGL-compatible video card
128MB RAM, 12MB free HD space.

Click to See Bigger Image
High Roller Full Version Features:
Simple & Addictive Vegas-style Gameplay.
Two Unique Game Modes : Normal & Time Attack Modes.
Bonus Dice.
Odometer-style Scoreboard & Animated Light Effects.
Hip Background Music.
Classy Vegas-Inspired Graphics.
Beautiful Full Screen Display.
If you like High Roller, You'll also like:
---

Power Chips

Twisty Tracks

Equilibria