Power Chips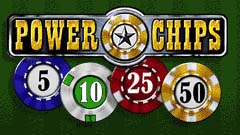 Poker Chips with Power!
Power Chips is an action puzzle game with all the glitz and glamour of Las Vegas.
It's all about the money in this exciting puzzler. Eliminate matching chips from the screen and watch your winnings grow and grow! The more you collect, the more you win. Play the bonus chips for big, big bucks. Whether you're looking for a relaxing break, or a mad dash for the cash, this swinging game pays big!
Free Download 5.04 MB Buy Now $19.99

System Requirements:
Power Chips Screenshots:
Windows 7/Vista/2000/XP
300MHz
DirectSound-compatible sound card
64MB RAM
12MB free HD space
Direct X 7

Click to See Bigger Image
Power Chips Full Version Features:
Simple & Addictive Vegas-style Gameplay.
Two Unique Game Modes: Normal and Timed.
Vegas Inspired Sights and Sounds.
Bonus Chips.
Slot-style Scoreboard & Animated Light Effects.
Swanky Sound Effects & Soundtrack.
If you like Power Chips, You'll also like:
---

Twisty Tracks

Gearz

Equilibria