Gearz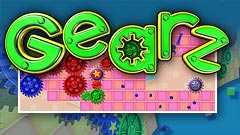 Gearz is an action-puzzler like no other!

Interconnect the different sizes of colorful rotating gears across scrolling levels to spin up the Goal Gear.

Create Combos of matching color gears and spin Bonus Gears to earn huge bonuses. Blow away unwanted gears with Bombs to help you out of a pinch or take advantage of special Power-Up Gears to increase your score!
Free Download 5.62 MB Buy Now $19.99

System Requirements:
Gearz Screenshots:
Windows 7/Vista/2000/XP
300MHz, Direct X 7
64MB RAM, 12MB free HD Space

Click to See Bigger Image
Gearz Full Version Features:
Unlimited Play.
Innovative "gear-linking" gameplay.
Exciting gear power-ups.
Difficulty modes.
Challenging levels.
Per-Level Rankings (can you top your best?).
If you like Gearz, You'll also like:
---

Mad Caps

Chainz