Chainz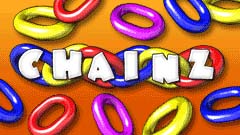 Chainz Game Description :

Un-chain your mind with Chainz, a challenging new puzzle game of colorful logic. Rotate links to form chains of matching colors. Set up chain reactions and incorporate bonus links for big rewards. Featuring two unique game modes and a special hint feature to help you when you're stuck, this exciting puzzle game is sure to keep you chained to your mouse for hours.
Download for PC 3.80MB Download for Mac 4.32MB Buy Now $19.95

System Requirements:
Chainz Screenshots (See Bigger Image)
PC:
Windows Vista/2000/XP
300MHz, Direct X 7
64MB RAM, 12MB free HD space

Mac:
Mac OS X 10.2 or higher
G3 350 MHz Processor
128MB RAM
Chainz Full Version Features:
Two Unique Game Modes: Normal and Time Attack.
Unique Chain-linking Gameplay.
Valuable Bonus Links.
Bright, Colorful Full Screen Display.
Wacky Sound Effects and Soundtrack.
Hint Feature for When You're Stuck.
If you like Chainz, You'll also like:
---

Mad Caps

High Roller