Equilibria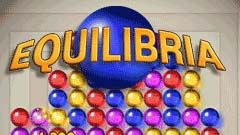 Equilibria Game Description :

Equilibria is the name of the game in this exciting game of balance.
Colored marbles are rolling into the playing field from all sides. Click groups of three or more to remove them. But, if the field becomes too tall or too wide, the balance is gone and it's game over. Like nothing you've ever seen before, Equilibria is a unique puzzle experience.
Download for PC 2.87 MB Download for MAC 3.07 MB Buy Now $19.99

System Requirements:
Equilibria Screenshots :
PC:
Windows Vista/7/2000/XP
Pentium II 300MHz
DirectSound-compatible sound card
Direct X 7, 64MB RAM
MAC:
Mac OS X 10.4 or higher
G3 350 MHz Processor
128MB RAM

Click to See Bigger Image
Equilibria Full Version Features:
Three Unique Game Modes.
Fast Paced, Challenging Gameplay.
Powerful Bonus Marbles.
Breathtaking Graphics.
Atmospheric Sound Effects and Soundtrack.
If you like Equilibria, You'll also like:
---

High Roller

Chainz