Luxor Game Download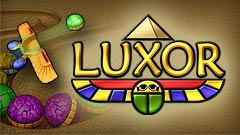 Embark on an expedition through ancient sands in this exciting action-puzzler. A unique take on the match three puzzle, Luxor challenges you to think quickly and aim carefully as you explore the path of the Nile. Fire colored spheres at the advancing rows to form matching groups and keep them from entering the pyramid. The ancient civilization comes to life with stunning graphics and exotic sounds, while exhilarating game play keeps you on the edge of your seat. Are you ready for the challenges of the Pharaohs?
Download Free Version 11 MB Buy Full Version $19.99

System Requirements:
Luxor Game Screenshots:
Windows 95/98/ME/2000/XP
Pentium II 300MHz
DirectSound-compatible sound card
Direct X 7
64MB RAM
12MB free HD space

Click to See Bigger Image
Luxor Game Full Version Features:
Loads of 88 Challenging Levels.
Individualized Personal Profiles.
Exciting and Unique Game Play.
In-Game Help.
Unique Power-Ups.
Play offline and full screen.
If you like Luxor Game, You'll also like:
---
Puzzle Express

Equilibria