Puzzle Express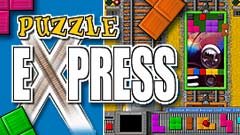 Travel across the country loading up the Puzzle Express with beautiful pictures! Grab colorful puzzle pieces and place them together to fill up the train cars. The more you fill up the car, the more of the picture you get to see. Fill up the entire train and send it to the next city for a new batch of pictures! New pictures are downloaded automatically so you may never see the same picture twice! Plus, you can even add your favorite photos right into the game! All aboard!
Free Download from Site 1 Download from Site 2 6.19 MB Buy Now $19.95

System Requirements:
Puzzle Express Screenshots:
Windows 7/Vista/2000/XP
DirectX 6.0 or higher
500 Mhz CPU or faster
10 MB Video Card
64 MB RAM


Click to See Bigger Image
Puzzle Express Full Version Features:
Two different game modes to enjoy!
Hundreds of pictures to reveal.
Save your game and resume later!
Automatically download new pictures.
Add your favorite photos right into the game!
More photographs for downloading.
If you like Puzzle Express, You'll also like:
---

Zuma Deluxe

Holiday Express

Bejeweled 2 Deluxe