Holiday Express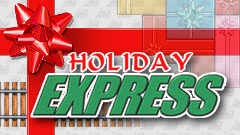 Help deliver colorful gifts!
Celebrate the holidays by delivering colorful presents on the Holiday Express! Arrange the gifts, fill up the train and reveal festive photos! There's also falling snow, bonus rounds and jolly music in this great holiday-themed game. Plus, there are two play modes and new photos are downloaded automatically so you'll have plenty of fun for the holidays. You can even add your favorite photos right into the game! Keep out the cold with this merry treat!
Download FREE Demo 6.66 MB Buy Full Version $19.95

System Requirements:
Holiday Express Screenshots:
Windows 7/Vista/2008/2000/XP
500 Mhz CPU or faster
64MB RAM
15 MB free HD space

Click to See Bigger Image
Holiday Express Full Version Features:
Two different game modes to enjoy!
Hundreds of Festive Photos to Reveal.
Add your favorite photos right into the game!
Save Your Game and Resume Later.
Automatically download new pictures.
If you like Holiday Express, You'll also like:
---

Zuma Deluxe

QBZ

Bejeweled 2 Deluxe