QBz for Mac and PC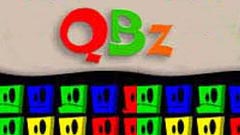 QBz Game For Windows, Mac OS X, Mac OS 9
Here are a few things you need to know about QBz: They like to travel in groups, they cry when left on the board, and they star in one of the most hilarious and addictive puzzle games around! Click on the clusters of cute little squares (the QBz themselves) to clear them from the screen. Clear them all and you get happy QBz and a cool animation. Leave a few on the screen and watch them cry! Fun, silly, and adorable!
Tons of Gameplay Options Including Number of Levels, Board Layout and More.
Play in Timed or Score Mode.
Hilarious Sound Effects From the QBz: 'Blue, Together!'
Use Special Moves - Three Per Level - To Spin or Shuffle the Board.
Five Different Soundtracks to Choose From.
Great Family Fun!
If you like QBz, You'll also like:
---

Mad Caps

Chainz