Bejeweled 2 Deluxe CD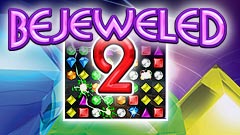 Bejeweled 2 Deluxe Description :
The classic game of gem-swapping takes off to euphoric new heights! Adapted from its predecessor, Diamond Mine, Bejeweled 2 Deluxe features four unique ways to play. Solve handcrafted brain teasers in puzzle mode while up against the clock or kick back, relax and enjoy endless mode. With awe-inspiring planetary backdrops, explosive new gems and dazzling special effects, Bejeweled 2 Deluxe is more wildly addictive than ever before!

Free Download 9.29 MB

Buy Now $19.95

Buy CD Jewel Case $21.95
Bejeweled 2 Deluxe Screenshots:





Click to See Bigger Image
System Requirements:
Windows 7/Vista/2000/XP
300MHz
Direct X 7.0
64 MB RAM
20 MB free HD space
Bejeweled 2 Deluxe Full Version Features:
Explosive new pieces: power gems, hyper cubes and time bombs!
Stunning 3d special effects and higher resolutions.
Four ways to play: Classic, Action, Puzzle and Endless.
Explore a galaxy of handcrafted puzzles in Puzzle mode.
Play for eternity and collect jewelry in Endless mode.
Discover secret game modes.
Hint-on-demand feature!
If you like Bejeweled 2 Deluxe, You'll also like:
---

Power Chips

Enigmo

Equilibria