Dropheads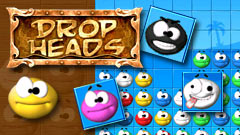 Meet the Dropheads, hilarious and loveable characters with treasure on their mind. Help these strange little guys navigate the seas by matching them in groups of four or more. Then, watch them bounce off the screen. As you go, collect pieces of a treasure map and assemble them to find the hidden loot. And with two game modes, Arcade for those who like a fast pace and Strategy for those who like a relaxing diversion, there's something for everyone. Join the Dropheads on their wacky journey today.
Download Free 7.01 MB Buy Full Version $19.95

System Requirements:
Dropheads Screenshots:
Windows 7/Vista/2000/XP
300MHz
Direct X 7
64MB RAM
12MB free HD space

Click to See Bigger Image
Dropheads Full Version Features:
Two Great Game Modes: Arcade and Strategy.
Hilarious Animations.
Special Dropheads like Joker, Voodoo, and Mixer.
Assemble the Map Bonus Game.
Unique combination of great gameplay and extreme fun.
Classic puzzle game with mind-challenging levels.
Additional bonus and surprise game to solve.
Collect all 5 treasure chests while exploring secret islands.
Smiley characters with hilarious animations.
Faster-paced chill out game with easier levels.
Animated easy-to-grasp tutorials on every single feature.
If you like Dropheads, You'll also like:
---

Zuma Deluxe

QBZ

Bejeweled 2 Deluxe