Aqua Pearls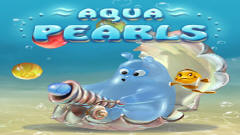 Aqua Pearls is a wonderfully crafted adventure, that revolves around a mysterious theft. A magic pearls necklace, that protects four oceans from evil, has been stolen. A funny bubble hero, named Aquatic, has been chosen to find all pearls and restore peace to the ocean world. This is where you step in. To accomplish the mission, you must lead Aquatic through a multitude of challenging levels with plenty of match-and-pop puzzles on the way.


Download Free Version 8.70 MB Buy Full Version $19.95

System Requirements:
Aqua Pearls Game Screenshots:
Windows 7/Vista/2000/XP
Pentium II 500MHz
DirectSound-compatible sound card
64MB RAM
Disk Space: 20 MB

Click to See Bigger Image
Aqua Pearls Full Version Features:
40 levels to go in adventure, strategy, puzzle and arcade modes
12 bonuses to spice up the game play
2 skins for bubbles
A lively character to play with
Nice sound effects and music, specially written and recorded for the game.
If you like Aqua Pearls Game, You'll also like:
---

Luxor

Twistingo

Zuma Deluxe