Jigsaw365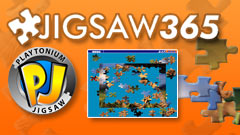 Jigsaw365 Game Description :
A year of jigsaw fun . . . at your fingertips! From the creators of the wildly successful Playtonium Jigsaw series comes Jigsaw365, a unique, calendar-based experience that is sure to provide you with 365 days' worth of puzzling challenges! Download new puzzles a month at a time, or all at once! Even use your own photos to create your own puzzles in the My Month feature. Perfect for the entire family, Jigsaw365 is great . . . any day of the year!
Download for Win 5.79 MB Download for Mac 6.21 MB Buy Now $19.95

System Requirements:
Jigsaw365 Screenshots:
Windows 7/Vista/ME/2000/XP
Mac OS X (10.2+)
450 Mhz Processor
DirectSound-compatible sound card
Direct X 7
64MB RAM
12MB free HD space

Click to See Bigger Image
Advanced Features of Jigsaw365 include:
Automatic Saving
Never lose a piece or a puzzle that you've begun.


Special Styles
Puzzles in the shape of animals, the U.S. map, a fairy castle, and many many more!


My Month
Put your own photos in this month and change them whenever you like!


Endless Selection
365 Images. 80+ Puzzle Styles. Over 30,000 unique puzzle combinations! Plus, add your own images!
If you like Jigsaw365, You'll also like:
---

Enchanted Forest
Puzzle Express