Enchanted Forest Jigsaw Puzzle Collection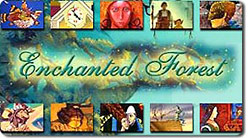 Enchanted Forest Game Description :

This jigsaw puzzle collection contains fifty spectacular original art images which make two hundred fun jigsaw puzzles. "Once upon a time" is the phrase that draws the attention of youngsters and floods adults with warm memories of childhood. The Enchanted Forest Jigsaw Puzzle Collection draws deeply from this world of make believe.
Download for Win 8.65 MB Download for Mac 14.6 MB Buy Now $19.95

System Requirements:
Enchanted Forest Screenshots:
Windows 7/Vista/ME/2000/XP
Mac OS X (8.6+)
450 Mhz Processor
DirectSound-compatible sound card
Direct X 7
64MB RAM
12MB free HD space

Click to See Bigger Image
Enchanted Forest Full Version Features :
50 enchanting images.
200 kid-to-expert challenges.
Magical Fantasy puzzle cuts.
A story on each image.
Special Info On The Artists.
If you like Enchanted Forest, You'll also like:
---

Jigsaw 365
Puzzle Express