TS-AudioToMIDI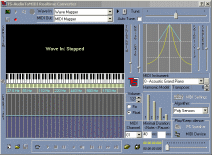 This program performs automated recognition of polyphonic music, stored in MP1, MP2, MP3, MPP, MPA, AIF, SND, AU, WAVE formats as well as audio CD tracks. In real-time mode, it instantly converts music coming through the microphone or line input of your computer into a MIDI sequence. It provides four different note-detection algorithms you can choose between. For adjusting recognition settings several advanced tools are provided, including harmonic model, equalizer and selectivity control.


Powerful functions:
TS-AudioToMIDI Pro can record any signal played through your sound card into Mp3, Wma, Vqf, Ogg or Wav files. It also supports converting WAV to MP3.


CD quality recording:
With its powerful sound engine, TS-AudioToMIDI records with CD quality.


Audio File Editing:
TS-AudioToMIDI Pro can edit audio files as you desired by cutting, copying, pasting, trimming and various DSP effects.


Flexible settings:
TS-AudioToMIDI supports automatically detecting the recording formats supported by your sound card and set the application's parameters for the best possible performance. The default parameters work in most cases, but you can change them easily to best suit for your needs.


Record volume control support:
TS-AudioToMIDI integrates the complete set of record volume control for your convenience.


Voice Activation System:
TS-AudioToMIDI Pro has a Voice Activation System with which you can choose to skip silent passages, or stop the recording after a certain amount of silence.


Recording History Management:
TS-AudioToMIDI Pro enables you to manage recording files conveniently.


Direct-To-Disk long time sound recording support:
TS-AudioToMIDI supports continue recording as long as your like without interrupted.


Hotkey Support:
TS-AudioToMIDI Pro supports hotkey setting (F8 to start recording and F9 to stop recording by default).
Related Sound Recorder Software:
---
Audio Record Wizard is a real-time sound recorder, Record audio stream to MP3 or WAV.

All Sound Recorder enables you to record sound, played back from any source.

Audio Editor Pro is a powerful mp3 editor for editing an MP3 file with different effects.