Any Sound Recorder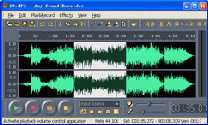 Any Sound Recorder - MP3 WAV Sound Recorder, Editor and Converter.
Typically it allows you to record sound from microphone, the line-in jack, internet streaming audio, or music played by Winamp, Windows Media Player, Quick Time, Real Player, Flash, games, etc. With Any Sound Recorder you can also edit audio files as you desired by cutting, copying, pasting, trimming and various DSP effects, save audio in popular WAV/MP3/OGG music formats.
Download Site 1 1.36 MB Download Site 2 1.36 MB Buy Now $24.95

System Requirements:
Any Sound Recorder Screenshots
Windows 7/Vista/2000/XP
64 Mb RAM
Sound Card
10MB Free Disk Space
Any Sound Recorder Features:
Powerful functions: Any Sound Recorder can record any sound available to your sound card into WAV/MP3/OGG files with flexible encode parameters.


Full control over recording sound quality: Any Sound Recorder will automatically detect the recording formats supported by your sound card and then set the appropriate one. But you can also change it easily to best suit your needs. With its powerful sound recording engine, Recorder can produce recordings with CD quality. Full control of MP3/OGG file bit-rate allows you to select the file size and sound quality.


Input source and record volume control support: Any Sound Recorder integrates the complete sets of input source and record volume control for your convenience.


Smart wave edit feature: Provide most useful edit tool such as special effects, copy & cut & past, unlimited undo & redo, zoom in/out features.


Two recording modes support: Editing audio mode and Directly saving audio to file mode. In the first mode, You can edit and modify sound data after recording. Files are created¡®on-the-fly¡¯, in real time and no temporary files are created in the second mode.


Preform voice activation and silence detection features: which are very useful to record sound when from internet. Any Sound Recorder will pause recording or create new file automatically when silence is detected until playing contiue. With track split feature, You can split recording sound data into separate WAV/MP3/OGG files automatically.


Unique Scheduled Recording mode: You can specify starting and stopping times for recording, and separate songs into files for you according to your configuration setting.


Easy-to-use user-friendly interface: Most functions can be called up with a simple mouse click or menu selection. With record wizard, you can custom your recording operation easily. You can also select your favor color scheme in options dialog.


Related Products:
---
Audio Record Wizard is a real-time sound recorder, Record audio stream to MP3 or WAV.

All Sound Recorder enables you to record sound, played back from any source.

Ants Sound Recorder records audio streaming from various devices.

Audio Editor Pro is a powerful mp3 editor for editing an MP3 file with different effects.