Snowy - The Bear's Adventures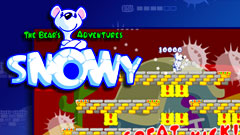 Snowy - The Bear's Adventures Game Description :
Join Snowy on his grand adventure to rid his world of dastardly monsters. He may only have snowballs in his arsenal, but that doesn't mean he can't win. Put the freeze on delightfully cute monsters, beat the bosses, and advance through Snowy's wacky world. Beautiful cartoon graphics enhance the action-packed game play. An adorably challenging game for players of all ages, Snowy - The Bear's Adventure is a treat for the entire family.
Download Now 7.89 MB Buy Now $19.95

System Requirements:
Snowy Screenshots:
Windows 7/Vista/2000/XP
Pentium 200 MHz compatible or higher
DirectX 6.0 with compatible video card
64 MB of RAM
SVGA graphics card

Click to See Bigger Image
Snowy Full Version Features:
88 Levels of Non-Stop Fun.
Four Unique Game Worlds.
3 Difficulty Levels: Kid, Normal, and Hard.
Beautiful Cartoon-Style Graphics and Smooth Animation.
Adorable Characters and Creatures.
Amusing cartoonish monsters.
Dangerous Bosses, guarding every Game World.
Nice dynamical special effects.
Special KIDS-FRIENDLY MODE.
Combos and many different ways to score, keeps a good replay value!
If you like Snowy - The Bear's Adventures, You'll also like:
---
Cactus Bruce

Betty's Beer Bar