Description of Solar System 3D Screensaver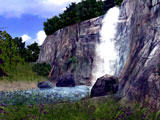 The rings of Saturn have puzzled astronomers ever since they were discovered by Galileo in 1610, during the first telescopic observations of the night sky. Have you ever dreamed of getting a chance to see them with your own eyes? This screensaver is an outstanding 3D model of the solar system. Every planet is there along with its satellites and even a small info graph with basic facts. All the proportions and trajectories are right. You get to float through some of the best known constellations like the Big Dipper and get a great view of the Milky Way. It's not only the sheer beauty but also the educational content that make Solar System 3D Screensaver an absolute must-have.

Download

Buy Now ($19.95)
Other 3D Screensavers
Features of Solar System 3D Screensaver:
Full 3D environment
Photo-realistic colourful graphics
Variety of fascinating space scenes
All the planets of the solar system including their well-known satellites.
Basic info on every planet
The correct proportions and trajectories of planets
Every planet has been developed with special regards to its peculiar features
Relaxing space music
Digital Clock
FPS counter
Hear the call of the universe!