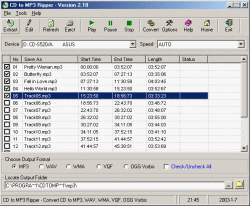 CD to MP3 Ripper
CD to MP3 Ripper rips audio CD tracks and save them into audio formats mp3, wav, wma, VQF or OGG Vorbis. WMA means Windows Media Audio, and VQF means Yamaha SoundVQ. CD to MP3 Ripper is a fast, easy to use while powerful cd ripping tool. This software offers rich options for your special requirements. MP3 Encoder supports CBR and VBR encoding. CBR means constant bit rate , while VBR means variable bit rate. CD to MP3 Ripper also supports four channels mode including Stereo, Joint Stereo, Mono and Dual Channel. By changing MP3, WAV and WMA settings, you may make a choice between speed and quality.



Buy Now Download


Key Features:
Convert CD to WAV, WMA, VQF, OGG Vorbis, MP3
High Speed Ripping
Rich Options of MP3 Encoder, WMA Encoder and OGG Encoder
100% Windows XP Compatible
Support Multiple CD-ROMs
Make choice between output quality and file size
Easy to use
Encode WAV to MP3
Encode WAV to WMA (Windows Media Audio)
Encode WAV to OGG Vorbis
Decode MP3 to WAV
Decode WMA to WAV
Decode OGG Vorbis to WAV
Convert MP3 to WMA
Convert MP3 to OGG Vorbis
Convert WMA to MP3
Convert WMA to OGG Vorbis
Convert OGG Vorbis to WMA
Convert OGG Vorbis to MP3
Resample MP3 to Mp3
Resample WAVE to WAVE
Resample WMA to WMA
Resample OGG to OGG
Support remaing tracks name
FreeDB Downloading
FreeDB Submitting
Support playing CD tracks
Support MP3 VBR
Support OGG Vorbis VBR
Registered users are free to upgrade to newer versions.