MahJong Adventures for Mac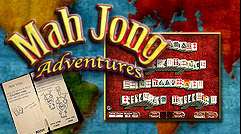 Embark on a journey of strategic fun with this adventurous take on MahJong! Explore unique tile sets and layouts as you make your way across the globe in a search for your eccentric uncle's prized treasure. Mah Jong Adventures also features a classic game mode with many customizable features and a layout creator to make MahJong boards and share them with friends and family. A global adventure like you've never seen, take off today for a worldly treat of Mah Jong fun.

MahJong Adventures For Mac is your relaxing getaway from a stressful day. Own the adventure today! Mah Jong Adventures. This game is compatible with Apple Macintosh, iMac, Mac, OSX, Powerbook,ibook, G5, and most Apple computer platforms.
Download Now 13.00 MB Buy Now $19.95

System Requirements:
MahJong Adventures for Mac Screenshots:
Mac OS X 10.2 or later

Click to See Bigger Image
MahJong Adventures for Mac Full Version Features:
2 Game Modes: Adventure and Classic.
54 Location Levels and Over 80 Levels
Layout Creator.
Over 18 Tile Sets and 50 Backgrounds
Stunning Graphics, Effects, and Sound.
Original Music.
Unlimited Play.
Use Your Own MP3 Music Files as Game Music
Full Screen Display and High Scores Tracking
If you like MahJong Adventures for Mac, You'll also like:
---

Snowball Run for Mac

Chainz for Mac

QBz for Macintosh