We have been a member
of ASP since year 2001.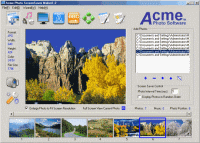 ACME Photo Screensaver Maker is an easy-to-use while excellent photo images slide show screensaver maker. In four-step wizard, you can make a custom, professional, distributable screen saver with your own pictures and photos. This tool is powerful to make cool effect slideshows screen saver in minutes. There are many kinds of effects easily for user to choose, such as background, caption, mask, dynamic phrase, transition etc. This software is powerful to make cool effect photo screensavers. Whether you are a screen saver beginner or professional, the screensaver maker of choice for you will make your screensaver software experience more rewarding. No particular skill needed, just enjoy this multiple-style custom software.
---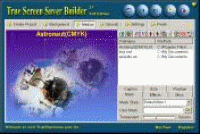 True Screen Saver Builder Full Edition allow you make your own screen saver for Windows 95/98/ME/2000/XP. Several options of this screen saver maker are available: Most popular image file formats support(BMP, JPEG, GIF, PNG, PSD, TIF, PCX and so on); MIDI, MP3, WAV, WMA Background music support; Transition Effect support; Image Masking Effect support; Video/Flash Shape support; Customizable screen saver Dialog box, sell your screen saver option, and more...
---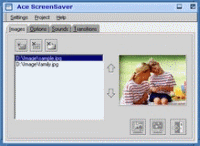 Ace Screensaver is an easy to use create your own slideshow screensavers maker. No programming skills needed: just collect images and sounds and add them to your screensaver project with a point-and-click. Supports more than 90 screensaver slideshow transition effects. Easy to use and very nice to view. Full supports for create self-installing screensavers.
---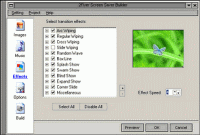 2Flyer Screensaver Builder is a program which lets you make your own screensavers, you can use pictures, music, flash, video, or even live websites. Create professional screensavers with up to 1,000 images. You can add MP3, WAV or MID sound and choose from 240 transition effects that can be customized to create unique effects. Screensavers can be saved as a single EXE installation file, so you can e-mail and share them with your friends. You can even include a Web site link and ReadMe TXT. You can even preview your screen saver as you build it.

---
Easy Screen Saver Workshop is a software that can Create images slideshow / animated sprites / flash based screen savers without progamming,Creating your own shareware / freeware screen savers, just collect your favorite images, music, MP3, flash files. It also has an easy way to use projects you created as default screen saver of your computer with unlimited amount of images/music.