PhoneTray Dialup Free Download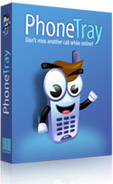 Internet Call Waiting, Online Caller ID and Modem on Hold - only $16.95 USD / $18.95 CAD with no monthly fees!

Don't miss another call while online! PhoneTray Dialup will notify you when someone is calling while you are online. You can choose to take the call or ignore the call. It's like Internet Call Waiting with no monthly fees, no ads and no spyware. Plus, you get full featured Caller ID software that shows and speaks caller's name and number, logs all your incoming calls, blocks unwanted calls and zaps telemarketers.





Free Download
1.68 MB &nbsp &nbsp

Buy Now
$16.95 USD to buy
PhoneTray Dialup System Requirements:
Windows 7, Vista, XP, NT, 2000
Call Waiting service from your phone company
Call Waiting Caller ID service recommended
V.92 Modem .
PhoneTray Dialup Key Features:
Get phone calls when online.

PhoneTray Dialup lets you receive and screen phone calls while you are online. The program uses your V.92 modem and Call Waiting service from your phone company to detect an incoming call. If you have Caller ID on Call Waiting, also called Call Waiting ID or Visual Call Waiting, PhoneTray will show the caller's name and number, so you can decide if you want to answer the call or ignore it. If your internet provider supports Modem-on-Hold, you can put internet on hold, take a call and continue browsing after you finish talking.
Other Internet Call Waiting services like AOLCallAlert, CallWave, Pagoo or BuzMe transfer your calls to their call centers. They know who's calling you and can subject your callers to advertisement. PhoneTray Dialup doesn't transfer your calls anywhere. It uses your modem to get Caller ID information supplied by your phone company. So your privacy is protected and you are in complete control of your calls!


Know who is calling when online and offline.

PhoneTray uses your modem to identify the callers before you answer the phone. You must subscribe to the Caller ID service from your phone company and have a Caller ID capable modem.
PhoneTray shows a balloon with the caller's name and number. The program also announces incoming calls using text-to-speech engine.
You can set a different ringtone for each caller or type of callers. 20 ringtones are included with the program plus you can use any wav file.


Keep a complete history of your incoming calls.

PhoneTray logs all incoming calls received while you are online or offline. It keeps the date, time, name and phone number of each call. You can view a complete call history or calls received today, this week or this month. You can select what type of calls you want to see - all calls, local calls, long distance calls etc.

Call history is stored in a standard CSV file and can be edited and exported to other programs using Microsoft Excel.


Protect your privacy.

Privacy Manager allows you to configure how PhoneTray handles incoming calls. For example, you can set PhoneTray to automatically answer all calls from private (blocked) numbers after first ring and play a message telling the caller to unblock his/her number.
PhoneTray can block calls from specific numbers or reject any other type of unwanted calls (blocked number, out of area etc.) by answering and playing selected message. Several useful messages are included with PhoneTray. You can also record your own wav files and use them with the program.
If you don't want to be bothered by late calls you can set your "quiet time" and PhoneTray will block all calls during that time. Important numbers can be marked so they ring through anytime.
All Privacy Manager settings including names and numbers are stored in a standard CSV file and can be imported from or exported to other programs using Microsoft Excel.


Zap telemarketing and other unwanted calls

PhoneTray can automatically 'zap' telemarketers with a special 'number disconnected' tone. After receiving this tone telemarketer's computer will delete your number from its database. The program can play Federal 'do-not-call' warning forcing telemarketers to remove you from their calling lists - by law!
You can set the program to reject unwanted calls manually or automatically after selected number of rings. If you select to zap the calls manually the program pop-ups a dialog and lets you decide if you want to zap this call or not.
Main Screenshot: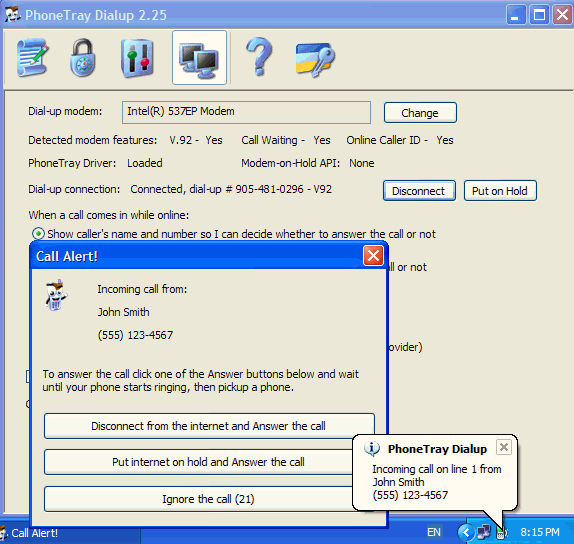 Other Products:
---
Spyware Doctor is a multi-award winning spyware removal tool software.
SpyNoMore anti-spyware is a powerful security and personal privacy tool.