Exterminate It! Free Download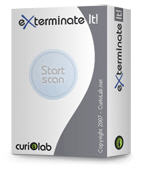 Exterminate it! is a unique, Easy-to-use, state-of-the-art antivirus & antimalware solution for the comprehensive detection and removal of trojans, rootkits and other malware, capable of efficiently safeguarding your PC even against the most recent and previously unknown (undetected) threats!

Exterminate rootkit, worms, trojans and other malware with just a couple of clicks!
Exterminate It! will keep your Internet-connected PC or notebook virus-free with ease. Personal Updates and a huge malware database will help you stay protected.

Why Exterminate It! ?

When surfing on the crest of a wave in the modern digital ocean, where everything is internet-connected, you risk falling. The Digital Ocean is much more risky than its natural counterpart. Any profit-minded criminal can be your breaking wave.
Just like with real surfing, falling is also natural and hard to prevent, even if you are protected. In case you, actually, do fall, it's really important to get immediate help.
Even if you've caught the latest malware / trojan that is not yet included in our huge, daily-growing database, you will be back riding the wave within 24 hours with the help of our Submit State feature.
Remember that the submission of a report on the state of your PC may help other surfers rise to their feet much faster.
Enjoy your digital surfing!


Free Download
4.37 MB &nbsp &nbsp

Buy Now
$49.99 USD to buy
Exterminate It! System Requirements:
Windows 7 (32-Bit & 64-Bit), Vista (32-Bit & 64-Bit), XP, 2000
216 MB RAM
Exterminate It! Key Features:
Exterminate It! includes the Submit State functionality, by using which you can provide us with detailed info on the state of your PC with a single click and receive a remedy for your malware problem from us in the next database update within 24 hours.
Exterminate It! will help your PC stay clean, -- the computer security is of utmost importance in todays' business world!
Feel the meaning of Real Personal Protection with the "Submit State" feature.
Huge (more than 500,000 malware) database with daily updates guarantees infection removal.
You can run the software when you need to, - don't waste the resources of your system.
Easy-to-use and install, intuitively user-friendly GUI. Run it only when you need to.
Exterminate It! is compatible with other security software suites. This way, you can get combined virus protection.
Low consumption of system resources
24 hours customer support
Free user-tailored updates
Works with Windows 7 and Vista and Windows XP.
Main Screenshot: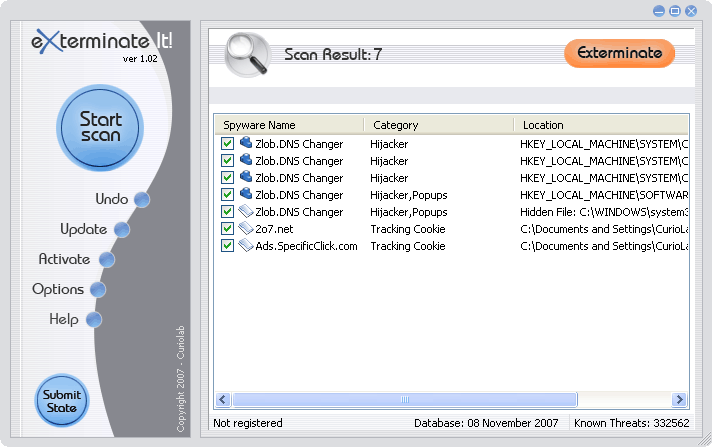 Other AntiMalware Products:
---
Spyware Doctor is a multi-award winning spyware removal tool software.
SpyNoMore anti-spyware is a powerful security and personal privacy tool.