Driver Detective Free Download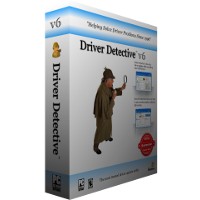 Download the latest Windows 7, Vista and XP drivers


Access to 27+ million device associated drivers


Integrated customer service


Fix Driver Problems With Driver Detective


And Much More!



Take the frustration out of updating your drivers!

Driver Detective software is designed to quickly locate the most current drivers specific to your computer system through its user friendly interface and access to an extensive database. Driver Detective saves the frustration and extensive time investment usually associated with updating drivers.
Driver Detective provides access to 27,000,000 device associated drivers including over 2,500,000 that are specific to computer manufacturers such as Dell, Toshiba, Gateway and Compaq


Free Download
1.05 MB &nbsp &nbsp

Buy Now
$29.95 USD to buy
Driver Detective System Requirements:
Windows 7, Vista, XP, 2000
300MHz or higher processor
256 MB of RAM
.NET Framework 2.0 is required for this product. If needed, it will be installed during Driver Detective installation.
Driver Detective Key Features:
Driver Detective Machine Intelligence identifies your specific computer to provide you the most accurate drivers available. Manufacturers supported by Driver Detective include: Dell, HP, Compaq, Gateway, and many more.


Driver Detective is using the most accurate and comprehensive Driver Scanning Engine (DSE) on the planet, built from the ground up using the latest technology with over 10 years of experience in the driver scanning/detection industry.


Search Computer Device Types for Driver Updates
Adapters, GPS Unit, Printer Plotter Multifunction, Audio and Sound, Graphics Video Adapter, Scanner, Bio Metric, Hard Disk Controller, SCSI, Bluetooth, Infrared, Smart Card Reader Writer, Cell Phone, Jump Drive, Tape Backup, Chipset, Keyboard Mouse Touchpad, TV Tuner, CPU, Modem, USB Port Cryptography, Monitor, Webcam, Digital Camera, MP3 Player, Wireless Network Adapter, Fax, Network Adapter.


Integrated Customer Support - Drivers HeadQuarters has a well-trained and experienced support staff available to help you through integrated customer support tools.


Driver Backup Wizard - With Driver Detective there is no need to worry about losing drivers again. The program has a built in wizard that allows you to copy (backup) your downloaded drivers to a CD, network drive, or USB flash drive.


Windows Vista Upgrade Wizard - If you are considering upgrading to Windows Vista, use Driver Detective's Upgrade Wizard first.


Easy Migrator - Thinking about upgrading, reloading or downgrading your operating system? Easy Migrator is here to help! Easy Migrator will automatically scan your computerí»s hardware, download all of the latest drivers for any destination operating system that you choose and finally create a device driver migration CD.
Main Screenshot: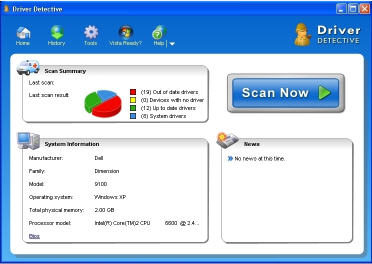 Other Products:
---
Spyware Doctor is a multi-award winning spyware removal tool software.
SpyNoMore anti-spyware is a powerful security and personal privacy tool.