Solitaire Plus! for MacOS X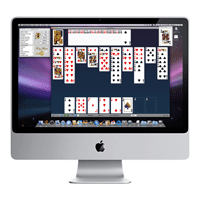 Solitaire Plus! for Mac OS X is a fully-featured Mac solitaire game collection with convenient card play features not found in other Mac solitaire games. Several solitaire variations are provided including the Klondike, FreeCell, and Spider favorites. Spider is offered in a multi-level version: Easy, Medium, and Challenging. Solitaire Plus for Mac offers a unique smart-dragging feature that streamlines game play along with other features such as tableau spacing preferences, realistic card artwork, and more!
A total of 30 solitaire variations are offered. The games include: Aces Up, Australian Patience, Baker's Dozen, Baker's Game, Beleaguered Castle, Canfield, Double Klondike, Double Scorpion, Double Yukon, Eight Off, Flower Garden, Forty Thieves, FreeCell, Giza, Golf, Indian Patience, Klondike (common solitaire), La Belle Lucie, Montana (Gaps), Nestor, Pyramid, Pyramid Golf, Queen of Italy (Terrace), Russian Solitaire, Scorpion, Scorpion II, Sea Towers, Simple Simon, Spider, and Yukon.
Solitaire Plus! offers you a 30-day money back guarantee on this purchase.
Download Free Version 7.05 MB Buy Full Version $19.95

System Requirements:
Solitaire Plus! for MacOS X Screenshots:
Solitaire Plus 2.2 requires Mac OS X 10.3 or higher.
It is a Universal application.

Click to See Bigger Image
Solitaire Plus! for MacOS X Full Version Features:
30 great solitaire variations including the Klondike, FreeCell, and Spider favorites
Automatic game saving/restore including complete undo/redo history
Large and realistic cards that fill the largest iMac's screen
Great game play with our unique smart-dragging? feature
Unlimited undo/redo of moves
Use any image on your Mac as a card back or a game background
Game number selection option that you can use for competitions with friends
And more! Try our free demo or purchase a copy today.
If you like Solitaire Plus! for MacOS X, You'll also like:
---

Canasta

NingPo MahJong

Emperor's MahJong