NingPo MahJong Deluxe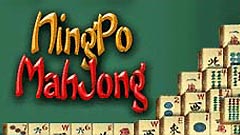 NingPo MahJong Deluxe Description :
Looking for a matching bonanza? The ancient Chinese game of Mahjong just gets better!
A Classic Mah Jong Solitaire game! Undo, hints, shuffle and multiple layouts, tile sets and backgrounds! Relax while you enjoy this classic solitaire game of tile matching. Features include: multiple layouts, tile sets, and backdrops to choose from, plus great music, high scores, shuffle, undo, and hint options.
Download Now 3.51 MB Buy Now $19.95

System Requirements:
NingPo Mahjong Screenshots:
Windows 7/Vista/XP/2000/ME/98
Pentium II 400 MHz processor
Direct3D compatible 3D graphics card with 16 MB
64 MB RAM
DirectSound compatible sound card

Click to See Bigger Image
NingPo Mahjong Full Version Features:
Eighteen challenging game types!
Customize your play with new tilesets and backdrops!
High score tables for every layout!
Soothing music soundtrack.
Never get stuck again! Unlimited Undo, Hint, and Shuffle features keep things moving!