Five Card Deluxe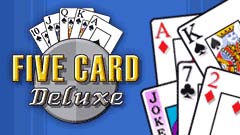 If you like solitaire or poker then you'll love Five Card Deluxe!
Place cards from the deck onto the table to form poker hands and score points. Four thrilling game modes let you play the way you want to, while the save feature lets you pick up where you left off! Earn wild cards in "Joker's Wild" or compare your scores with others from around the world in "Tournament" mode. Can you score enough points to advance to the next level?
Download Site 1 Download Site 2 4.52 MB Buy Full Version $19.95

System Requirements:
Five Card Deluxe Screenshots:
Windows XP/2000/NT/Vista/7
300 Mhz CPU or faster
64 MB RAM
DirectSound compatible sound card

Click to See Bigger Image
Five Card Deluxe Full Version Features:
Four different game modes including "Joker's Wild".
Play against the clock or without a timer--your choice!
Choose your favorite music while you're playing.
Save your game and resume later!
If you like Five Card Deluxe, You'll also like:
---

Canasta

NingPo MahJong

Emperor's MahJong