Platypus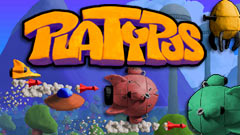 "Collosatropolis has invaded the peaceful land of Mungola and only the Platypus can save the day!" Okay, we don't know what that means either, but this uniquely amazing action game is a truly delightful treat for all ages. Fly your plane, the Platypus, through a richly textured, wonderfully imagined landscape. Stunning, hand-molded, clay graphics bring the intense side-scrolling shooter action to life and make every direct hit entertaining. Not to be missed, Platypus is a bold new step in adventurous fun.
Download From Site 1 Download From Site 2 5.20 MB Buy Now $19.99

System Requirements:
Platypus Screenshots:
Windows 7, Vista, 2000, XP, NT
Pentium II 400 MHz processor
Direct3D compatible 3D graphics card with 16 MB
64 MB RAM
DirectSound compatible sound card

Click to See Bigger Image
Platypus Full Version Features:
Two-Player Simultaneous Action.
All 20 massive levels of jaw dropping action.
Stunning Claymation Graphics.
Addictive, Exciting Game Play.
Tons of new enemies and power ups.
Adjustable Difficulty Settings.
Perfect for the Entire Family.
60-day money-back guarantee!
If you like Platypus, You'll also like:
---

Insaniquarium Deluxe
Jets'n'Guns