Jets'n'Guns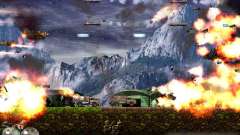 Jets'n'Guns is a heavy piece of ground shaking rock blasting action dressed in full metal jacket colored to kill in graphics that will blow you eyes out!
Enjoy yourself in almost-insane-action of saving the universe from the deadly threat of twelve masters of destruction in the quest of 21 levels! Stand as one-against-many armed with fifty different pieces of classy armament fitted tightly to a swish body of only yours spaceship!

Free Download 18.60 MB

Buy Full Version $19.95

Add a CD-ROM $5.00
Jets'n'Guns Screenshots: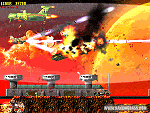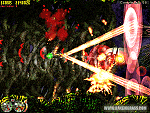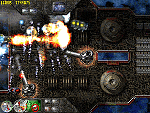 Click to See Bigger Image
System Requirements:
Windows 7, Vista, 2000, XP, NT
PC 500 MHz+
32MB Video Card with 3D acceleration
64 MB RAM
DirectX 9.0b
Jets'n'Guns Full Version Features:
Save the Universe in 21 levels full of thrilling action, shooting and demolition.
More than 200 original enemies, thread of fierce masters of destruction.
Each level brings new scenario such as deep space, jungle, frozen ocean, lava planet.
Enjoy the total destruction through 57 different weapons!
Upgrade your ship with 19 special devices!
Incredible graphic effects, using the latest features of the unique RakeX 2.0 engine.
Various combination of weapons available - hundreds of possibilities how to equip your ship.
Sounds and sound-effects just like from a Hollywood movie.
One hour of breathtaking original metal soundtrack by Machinae Supremacy.
We guarantee full refund within 30 days for any reason!
If you like Jets'n'Guns, You'll also like:
---

Platypus

AirStrike 2