Best Friends Forever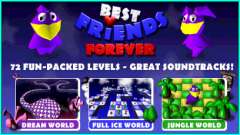 Best Friends Forever Game Description :

If you liked the first 14 boards of Best Friends, you are in for a treat! The *72* boards of Best Friends Forever are even better! Not only are there 72 new boards, but these boards take place in 3 different worlds! You will have a blast going through the Jungle and Ice worlds! And here's the best part! If you order now, you can be playing in less than 10 minutes!
Download from site 1 Download from site 2 4.18 MB Buy Full Version $19.99

System Requirements:
Best Friend Forever Screenshots:
Windows 7/Vista/XP/2000
Pentium II 200 MHz processor
Direct3D compatible 3D graphics card with 16 MB
32 MB RAM
DirectX 7.0 or newer

Click to See Bigger Image
Best Friend Forever Full Version Features:
3 worlds and 72 levels!
Addictive gameplay that will keep you happy for hours.
Explore 14 boards of the Ice World in the FREE version.
You will think you're playing a Gamecube with the console-like playability and smoothness.
'Fun Physics' allow you to twist, slide, and hop your way through the boards.
You'll be playing in no time because Best Friends is only a 4 meg download. That's only 10 minutes on a 56k modem.
Safe, secure online ordering from a well-known and trusted source.
If you like Best Friend Game, You'll also like:
---

Platypus

Cosmo Bots

Z-Ball Gold