Snowy - Puzzle Islands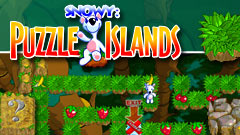 Snowy - Puzzle Islands Description :
New brain-teaser game stuffed with challenging levels, fascinating game objects and featuring, who else, Snowy the Little Bear!!! Actually, in Snowy: Puzzle Islands you'll have plenty to think about - transporters, conveyors, keys, teleports and other challenges. It is too hard for Snowy to solve all these puzzles himself... You will help him, won't you? The game is very engaging, so expect to spend long hours in front of your PC.
Free Download 6.40 MB Buy Now $19.95

System Requirements:
Snowy - Puzzle Islands Screenshots:
Windows 7/Vista/2000/XP
Pentium II 300MHz
8 Mb 3D Graphics Card
Direct X 7
64 MB Memory
20 MB free HD space

Click to See Bigger Image
Snowy - Puzzle Islands Full Version Features:
Beautifully rendered 3D graphics.
40 special kid-friendly levels.
60 carefully crafte levels.
NEW items and obstacles.
FREE hints and solutions available online.
FREE levels available online.
MORE music tracks.
If you like Snowy - Puzzle Islands, You'll also like:
---

Alchemy Deluxe
Magic Vines

Diamond Drop