Alchemy Deluxe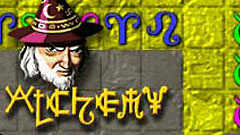 Alchemy Deluxe Game Description :
From the creator of Diamond Mine comes another addictive masterpiece! Alchemy combines elements of both puzzle and strategy games that will keep you thinking (and playing) for hours. Place runes on the board to form paths all the way across. Complete a path and it turns to gold; turn the board gold and move to the next level. Can't use a rune? Toss it into the cauldron, but do this too many times and you'll be cooked!
Download Free Version 2.05 MB Buy Full Version $14.95

System Requirements:
Alchemy Deluxe Screenshots:
Windows Vista/7/2000/XP
Pentium II 450MHz
DirectX 7.0
64MB RAM
3D Accelerator Card with 16MB VRAM

Click to See Bigger Image
Alchemy Deluxe Full Version Features:
Three Difficulty Settings.
Two Modes of Play - Standard and Timed.
Stuck? Use the Hint Feature!
Brand new mystical soundtrack by famed Future Crew composer Skaven.
Enhanced sound, music and graphics!
Spectacular new hi-res graphics make the magic come alive!
Save your high scores and upload them to the internet to compete with Alchemy players around the world!
New TIMETRIAL mode lets you challenge Alchemy in real time!
If you like Alchemy Deluxe, You'll also like:
---

Mad Caps
Chainz