Power CD to MP3 Maker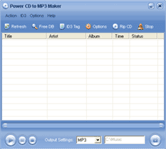 Power CD to MP3 Maker is a powerful and extremely ease-to-use tool for convert audio CD tracks to audio format MP3, WAV, WMA and OGG. It copies the audio digitally with excellent output quality and high speed. Power CD to MP3 Maker adopts advanced LAME Encoder and OGG codec, allows you to generate various qualities of MP3, WAV, WMA and OGG files. And more, MP3, WMA and OGG Encoder supports CBR (Constant Bit Rate) and VBR (Variable Bit Rate). Supports FreeDB which downloads CD information such as title, artist, and album from the Internet. There is a small tag-editor built in so you can edit the Title, Artist, Album, Year, Genre and Comment information of created files. Power CD to MP3 Maker supports multiple drivers. With full CD audio playback control function, you can use Power CD to MP3 Maker as a freedb-aware CD player.
Digitally convert audio CD to WAV, MP3, WMA, OGG files with excellent output quality and fast speed.
Support ID3 tag. You can easily edit File's (MP3 / WMA / OGG Vorbis) ID3 tag information.
Support FreeDB, by which you can get the CD album, artist, track titles information from remote FreeDB server with just a button clicking.
Support MP3 VBR and OGG VBR.
Rich options of MP3 encoder, WMA encoder and OGG encoder. Bit rate, Frequency, Channel, quality, CRC check,VBR check and so on may be customed in MP3 WAV WMA and OGG settings dialog.
Support full audio CD playback control.
Convert CD directly into music files, no temporary wav file used, saving your hard disk and make it faster!
Support Multiple CD-ROMs.
Have a nice and easy understandable user interface and converting your files is just a button click away, you'll be an experter in no time!
Other CD Ripper Products
---