Turtle Odyssey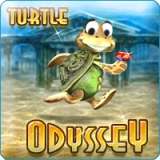 Turtle Odyssey Game Description :

Meet with hilarious underwater adventures! Try Turtle Odyssey.

Turtle Odyssey is a brand new arcade adventure of good versus evil that will take you on a treasure-hunting underwater journey. You'll meet a brave turtle, Ozzy, who's been chosen to challenge evil sea gangsters and return stolen talismans. Join you friend and play through a variety of elaborately-themed game levels full of evil creatures, surprises and endless fun.
Download From Site 1 11.6 MB Download Site 2 11.6 MB Buy Now $19.95

Minimum Requirements:
Turtle Odyssey Screenshots:
Windows 7/Vista/NT/XP/2000
300 MHz Processor
Direct X 7.0 or higher
64 MB RAM
30 MB free HD space

Click to See Bigger Image
Turtle Odyssey Full Version Features:
More than 40 levels.
Classic adventure gameplay.
Brilliant graphics and special effects.
A big cast of evil creatures including devilfish, sea hedgehogs and others.
Easy, Normal and Hard difficulty modes.
Cool bonuses such as health bottles, coins and others.
If you like Turtle Odyssey, You'll also like:
---

Luxor
Wonderland