Flyonoid Deluxe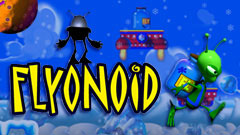 Hordes of monstrous green aliens have invaded our little blue planet and kidnapped all the flies . . . yes, flies. Luckily, you control a powerful alien robot, the Flyonoid, and now you're ready to fight for fly freedom! Blast away nasty aliens and free the flies from their glass jug prisons. Pick up crazy weapons and find super power-ups along the way. This lush side-scrolling adventure features beautiful cartoon-style graphics, an adorably wacky storyline, and is perfect for family fun!
Download Now 12.1 MB Buy Now $19.95

System Requirements:
Flyonoid Screenshots:
Windows 7/Vista/2000/XP
Pentium 300MMX or higher
DirectX 5.0
32 MB of RAM
SVGA graphics card

Click to See Bigger Image
Flyonoid Full Version Features:
20 Amazing Levels.
5 Unique Worlds to Explore.
Adorable Full Screen Graphics.
Hilarious Storyline.
Cinematic Soundtrack.
If you like Flyonoid, You'll also like:
---
Bud Redhead

FreakOut Gold